Big Head Todd
with
Joni & Pat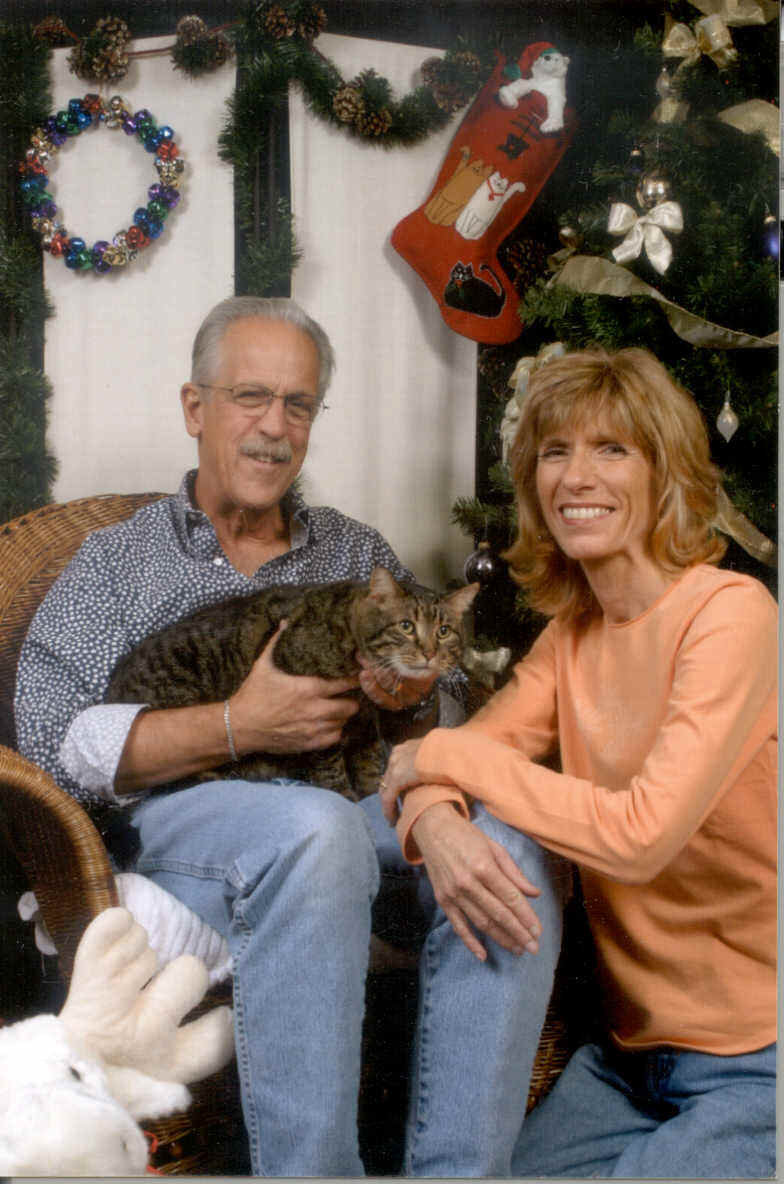 Joni
Hello! My name is Joni Butler, and I am the owner of The Cat Sitter franchise in Rochester, Minnesota. My husband Patrick and I live in Oronoco, a small town near Rochester, with our ten cats and two dogs.
We had three cats when we moved to Oronoco, certainly a sensible number. During the coldest part of our third winter there, things began to change. One evening as we returned from work, we discovered a tiny kitten sitting at the end of our drive. She was about six months old and had been tossed into the snow. We named her Diamond Lady, and she was our first rescue cat. Over the years, we have either adopted or found homes for about 30 cats.
Sometime during this period, I heard about Linda Bagne Bartleson's Cat Sitter business in Atlanta, Georgia. While I am a computer programmer by profession, I had been looking for an alternative income when, after a particularly grueling day at work, I gave her a call. I learned that she had started her business with the intent of establishing Cat Sitter franchises. So, after many calls back and forth, I signed the contract in March of 1998, and Linda came to Rochester to help me get started.
My business grew quickly and by the summer of 2002 I was able to change my programming commitment to half time. I schedule my sitting before and after work. This schedule has worked quite well. Even if I happen to have the proverbial "bad day" at work, all is forgotten during my first kitty visit. Several clients have decided to become backup sitters. They provide invaluable help during busier times.
Cat sitting has been a joy for me. It is the best possible alternative career that I could have found. I have many wonderful kitty clients in the Rochester area – all are unique and special. I certainly appreciate their owners, because they want to provide the best care for their cats while they are away.
Pat
My name is Patrick Davitt and I am Joni's husband. I began life as a "dog person" and I am still wondering how I came to "sponsor" all these cats into our household. It began with Diamond Lady leaping into my arms the day we discovered her sitting in the snow at the end of our driveway and has ended (so far) with nursing Jewel back from near death to her current robust health. We helped three rescued kitties safely deliver their litters and, except for Hans and Franz, we found good homes for every one of the kittens. Oh yes, I also brought two dogs home to join the family last fall.
My role with the Cat Sitter is largely in the background. I support Joni by doing the bookkeeping data entry and by doing some limited cat sitting. I also provide most of the care and feeding of our own menagerie so that Joni can be free to service her clients.
I am really happy that Joni discovered cat sitting and started her business. It has added a new dimension to our lives and has provided Joni with a rewarding career and many new friends.
Moneypenny
and
Jean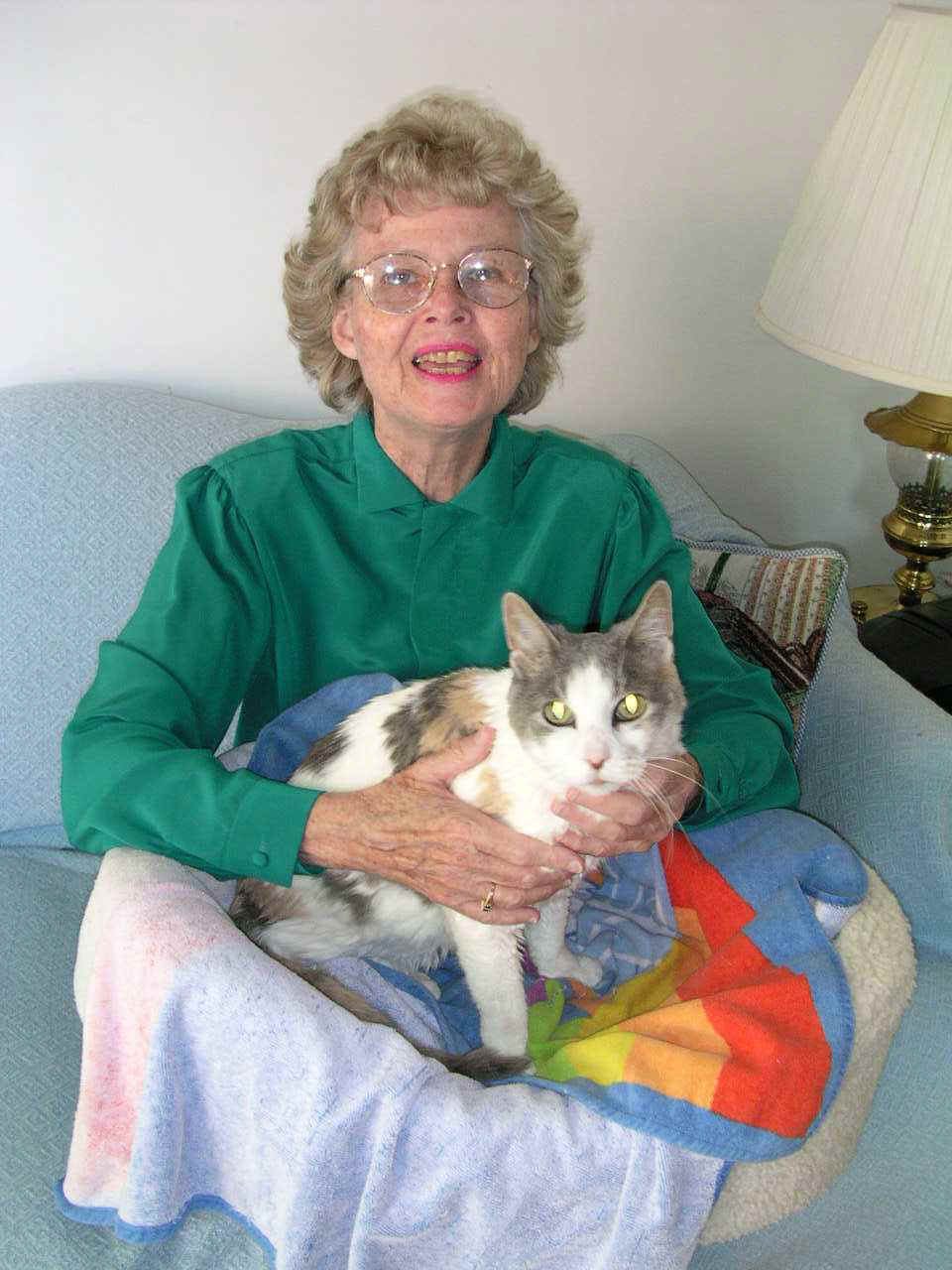 Jean
Jean is pictured here with her companion, Moneypenny. For you James Bond fans, yes, it is that Moneypenny.
Jean is retired from the Rochester Public Library and, amazingly, is finding that she is busier in retirement than she was before she retired!
Jean has been a customer of The Cat Sitter in Rochester since July of 1998. After she became a customer, she started working as a cat sitter herself in May of 2000. She enjoys meeting new cats and is quite skilled at working with very shy cats.
Jean enjoys traveling. England is a favorite source of ideas for the 'perfect' garden. She has also gone winter camping in northern Minnesota and is currently perfecting her kayaking skills.
In her 'spare' time, Jean volunteers in the pediatric section of St Marys Hospital in Rochester, and in her church nursery.
Of course, with all of this said, Jeans' Number 1 favorite activity is spending time with her grandson, Graham.
Calvin, Tasha
and
Marilyn
Marilyn
Marilyn is pictured here with her companions, Tasha and Calvin. She and her husband Terry reside in Rochester.
Marilyn is a RN, and retired from the Mayo Clinic several years ago. She now works part time as an office nurse for several doctors.
Marilyn has been a customer of the Cat Sitter in Rochester since August of 2000. Several months after she became a customer, she started working as a cat sitter herself. Because of Marilyn's nursing background, she is adept at caring for cats that are diabetic or need subcutaneous fluid treatments. Her favorite thing about cat sitting is meeting and getting to know kitties.
Last year, Marilyn and Terry bought a motor home. In the summer, they enjoy taking weekend trips as well as longer vacations with Calvin and Tasha. It is their goal to see many new places in the US.
Marilyn also belongs to a crafting club that meets monthly. Her favorite crafting activities include stamping and paper making.
Crash
and
Laura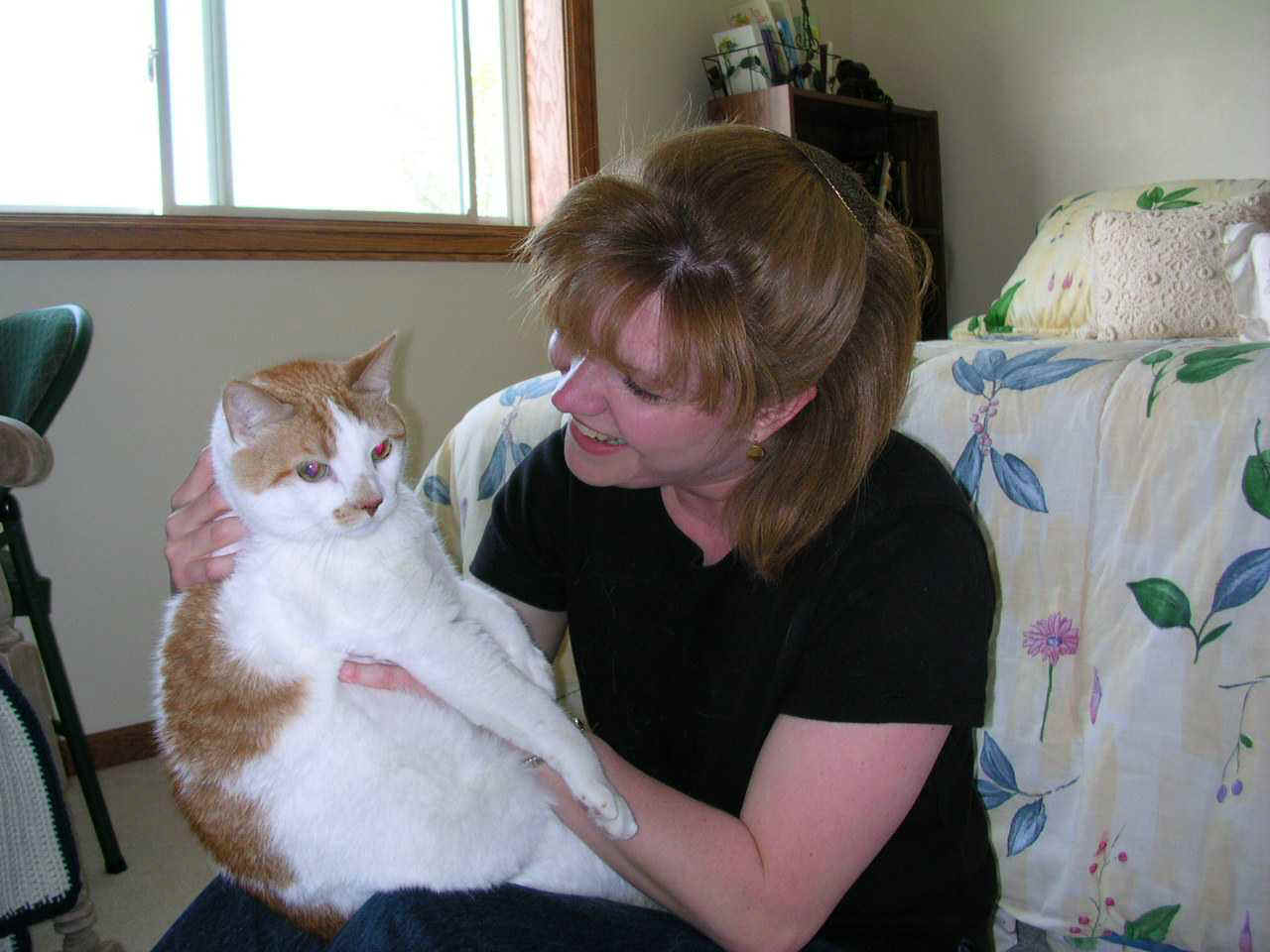 Laura
Laura became a client of The Cat Sitter three years ago. About a year after she became a client, she started working as a cat sitter. When asked what she likes most about cat sitting, she replied, "I think that my favorite part is meeting new cats and getting to understand their personalities." She is still amazed that she can spend time with her many new feline friends and get paid for it!
Laura is pictured here with her own two cats, Crash who is eleven years old and Broten (a name that should be familiar to all of you Minnesota hockey fans) who is thirteen. Of course, each wanted to be the star and could not share the limelight with the other!
Laura works as a sales administrative assistant for a major office supplier in Rochester. In her spare time, besides attending to the needs of Crash and Broten, she enjoys yoga and reading, especially military history. She also serves as a CPR and First Aid instructor for the Southeast Minnesota Chapter of the Red Cross.